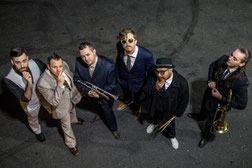 California skapunk band AT BOTH ENDS release debut album "Wheel's Out The Window" on Morning Wood Records!

At Both Ends, based in Sacramento, California have just released their full-length debut album on Dutch punk rock label Morning Wood Records! "Wheel's Out The Window" is the follow up to the band's 2015 four-track EP called "Knackered".
At Both Ends was founded in 2014 and can be best described as a mix of melodic punk rock / skatepunk and ska, smoothing out the grind with rapid beats, blazing horns & sweet harmonies. Highly recommended for fans of Less Than Jake, Rise Against, Pennywise and NOFX.

"The spawn of a failed craigslist meet up, they're all about super high energy shows, lightening guitar licks, horns, harmonies and a passion for punk.  Once described as the Beatles of punk rock by some drunk guy, At Both Ends keep the lyrics meaningful but the music flat our raucous."

Wheel's Out The Window was produced by At Both Ends & Joe Johnston and mixed and mastered by Joe Johnston at the Pus Cavern Studio in Sacramento, California.