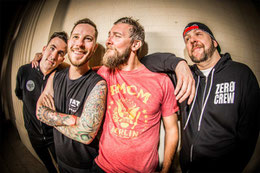 Authority Zero have announced their sixth full-length album, titled Broadcasting to the Nations, which is scheduled to be released on June 2nd through Bird Attack Records.
Since '94 Authority Zero has brought their unique signature blend of anthemic melodic-punk and reggae to the masses. The band was formed in Mesa, AZ by a group of high school friends with ample ambition but no lofty expectations. After a few years, they refined and established their sound: a mix of SoCal punk with reggae and ska tendencies. With the release of their debut album A Passage in Time (2002, Lava Records), the band's career gained momentum quickly and they've since spent their fair share of time on the road, having toured extensively with such acts as Pennywise, Sum 41, Flogging Molly and many more. They've released a total of 5 full length studio albums.
The band entered Fort Collins, Colorado's legendary The Blasting Room Studio (Rise Against, Descendents, NOFX) in December of 2016 to start work on their album Broadcasting to the Nations with producer/iconic punk drummer Bill Stevenson (of Black Flag/Descendents fame) at the helm. DeVore describes the direction of the new material: "It's really going to be an exciting album. It's a combination I think of The Tipping Point (released in 2013) meets the first album A Passage in Time.