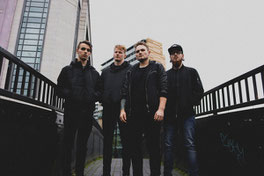 Post-hardcore quartet Everyday Sidekicks have released their latest single – Bury Your Friends – with an accompanying music video which can be viewed here.
 Vocalist Archie Hatfield reveals the powerful message behind the track: "This song goes out to anyone who is struggling with a mental illness like depression. You're not alone, talk to someone. It is a song about one of my closet friends who recently lost his battle with depression and took his own life. It's about the pressure of growing up and how it can affect your mental state and how we are repeatedly forced to decide where we want to be in life when realistically we don't have to." Bury Your Friends features on the band's recently released sophomore 'Hope', available here. Hatfield comments on the title and overarching theme of the record: "Hope to us is a hugely important factor in life. You constantly have obstacles thrown at you that you need to overcome, times change and sometimes it's not always good things that come your way. Without Hope for things to get better, life can get on top of you."
 
Completed by Guitarist Tim Brown, Bassist Sam Hughes and Drummer Josh Armitage, the post-hardcore crew are aware that their name may be puzzling: "Everyday Sidekicks has always been a strange name to people, but to us it's just a representation of the little guy. We wanted our music to relate to everyone in some way and we feel everyone can relate to the Sidekick in a comic book: never quite being the hero but you're always there when you are needed, standing by through thick and thin, no matter how tough the road ahead can get." Forming from a shared bond of wanting to make music since childhood, the release of debut EP 'The Things I've Seen', led to slots supporting the likes of Marmozets, Slaves (UK) and Coldrain.
 
Recording the newly released sophomore at Monnow Valley Studios with Tom Manning, has seen the band make a huge jump. Themeatically the band are attempting to avoid becoming 'a one trick pony' and so keep things diverse, with Hope spanning topics from heartbreak to the state of the world. Suppleness doesn't end at the lyrics either – although they can be currently best typified as post-hardcore – the band reveal "our sound is a lot more flexible than most artists in our local scene and for our future releases, as we combine several different styles of music. We aim to create our own sound as much as possible, but you can always tell hints of our influences in our music, such as A Day To Remember and Beartooth. We like to think of ourselves as a blend of teeth gritting hardcore mixed with the pop punk roots that we all come from." Whilst the pop punk influence may be subtle, at least at this stage, there is no denying the aggression and venom, despite the hopeful outlook.