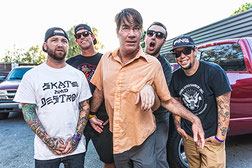 Southern California punk rock veterans Guttermouth have announced the release of a new double LP called "The Whole Enchilada", on June 23rd via Rude Records in collaboration with Bird Attack Records. Coming after the release of their 2016 EPs "Got It Made" & "New Car Smell", "The Whole Enchilada" consists of re-workings of the band's greatest hits in a live environment enriched by three unreleased tracks, plus a remastered version of the two latest EPs.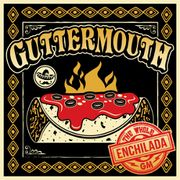 Mark Adkins also says about the new record "Did you know that on or around this very day, in the year 1893, Giuseppe Verdi's Opera "Falstaff" was first staged at La Scala, in Milan? I bet you didn't!!! I also bet you didn't know that, much like Giuseppe, Guttermouth will be releasing a brand spankin' new live recording, entitled "The Whole Enchilada".
 
"This zesty recording captures the true essence of the Guttermouth "LIVE" show with all the debauchery one has come to expect for these clowns... or us. Two brand new studio tracks are also included within Guttermouth's magnum opus. "The Whole Enchilada" will be out on June 23rd, 2017."
 
The new record is the perfect blend of what the California-based punk rock band is all about, an unmissable collection for die-hard fans, a great way to discover one of the seminal bands in the US skate-punk scene. It is surely a must-have for all the lovers of speedy riffs, 'stuck-in-the-head' choruses and outrageous humorous and sarcastic lyrics.
Hear it directly from singer Mark Adkins in this hilarious announcement video by clicking on the image below, and check out the new single "Saturday Truck Fever".
About Guttermouth:
Formed in Huntington Beach, California in 1988, Guttermouth was heavily influenced by the Southern California punk rock scenes of the 1980s which spawned bands such as the Adolescents, The Vandals, Social Distortion, Fear, Descendents, Angry Samoans, Bad Religion and Black Flag. The band took these influences and developed their own style of fast, punk tempos with humorously sarcastic and offensive lyrics coupled with equally outrageous and offensive behavior, developing a reputation for chaotic live shows.