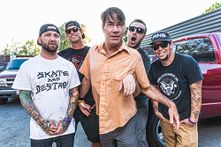 Southern California punk rock veterans Guttermouth have published a new song for track "A Boy and His Love Gun", off their upcoming double LP "The Whole Enchilada".
This is what Guttermouth had to say about it: "We like Paul Stanley and other great men of rock... View the proverbial "Love Gun" and its many uses, some mythical and others metaphysical. In the case of the Guttermouth song "A Boy And His Love Gun" said L.G. or Love Gun works on multiple levels. Like the great footballer Pelé, he played offense and defense... a sporting synonym for the main character in our new single. Thank you and goodnight."

"The Whole Enchilada" comes out on June 23rd via Rude Records in collaboration with Bird Attack Records. Coming after the release of their 2016 EPs "Got It Made" & "New Car Smell", "The Whole Enchilada" consists of re-workings of the band's greatest hits in a live environment enriched by three unreleased tracks, plus a remastered version of the two latest EPs.