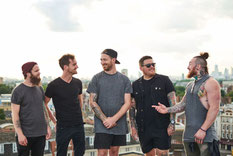 Heavy punk/hardcore outfit COPE are delighted to announce their new EP Tooth & Nail, set for release on October 13.

To celebrate the announcement, the band have streamed the eponymous track from the EP.

The track is but a glimpse into the soundworld on COPE's upcoming release. Fiercely political and positive, the Londoners are a band fitting of today's political climate. For fans of early Gallows, Feed The Rhino, Every Time I Die, COPE are a band who are at their most inspired and angry with Tooth & Nail.

Only forming within the last two years, COPE have already played Camden Rocks twice, as well as playing with The Hell, Blood Youth, Zoax, and Create To Inspire. A new force of intelligent, politically-motivated anger, and deserving of a listen.