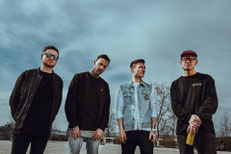 SKYWALKER have released their new track 'Blood', taken from their EP Sugar House, set for release on 1 September.
Throughout Sugar House the Liverpool-based four-piece crush speed and aggression with melodic hooks and bouncy choruses. They firmly put themselves in the skate punk scene, taking their emotional post-hardcore inspiration from the likes of Crooks and Counterparts, whilst retaining the strength of their massive pop-punkesque choruses that wouldn't look at out of place in a Neck Deep track.
Unstoppable drive and determination has quickly built SKYWALKER a strong fanbase across Europe, and earned them shows alongside the likes of NOFX, Madball, Anti-Flag, Limp Bizkit and more.
Live.
01.09 - JKZ Scheune, Ibbenburen (DE)
02.09 - Fallen Fortress Open Air, Bad Durkheim (DE)
03.09 - Pogo, Gorinchem (NL)
04.09 - Palazzo, Chur (CH)
05.09 - La Marquise, Lyon (FR)
06.09 - The Factory, Verona (IT)
07.09 - Dasbach, Vienna (AT)
08.09 - Badehaus, Berlin (DE)
09.09 - Hirsch, Nuremberg (DE)
11.09 - Underground, Plymouth (UK)
12.09 - Bar Forty Two, Worthing (UK)
13.09 - The Black Heart, London (UK)
14.09 - The Sun Flower Lounge, Birmingham (UK)
15.09 - The Pit, Swansea (UK)
17.09 - Broadcast, Glasgow (UK)