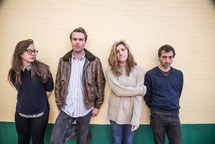 Years in the making, D.C. shoegaze quartet Big Hush will finally release their debut album, Spirit/Wholes. The quartet, comprised of players from Pygmy Lush and Flasher, explores the intersections between harmony-laden melancholy, off-kilter punk, and cacophonous shoegaze. Listen to Spirit/Wholes a day ahead of its release via Music & Riots today. 

"Each new song is a reaction to the song written before it, and the space that song inhibits, each void created by one song is filled by the next, and so reveals a new void," the band said of the album. "It's funny how a lot of things in life tend to embody a reactionary nature, capitalism is dictated by market reactions, relationships evolve dictated on reactions to each other, the weather reacts to changes in currents and temperature."
Spirit/Wholes is due out via Robotic Empire on August 11.