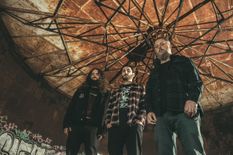 UK extreme noise-makers HELPLESS have unleashed their ferocious new single 'Sinkhole', ahead of their debut album Debt which is out on September 8 via Holy Roar Records. 
First premiered on the Holy Roar Records Podcast, the band have also released a video for 'Sinkhole', a one minute blast of frenzy, showcasing the band in full-on assault mode. You can watch the video here:

The band's label, Holy Roar are offering fans the chance to win a Holy Roar/Helpless prize package. All you have to do is share the 1 minute video across your social profiles with the hashtag #helplesssinkhole and include 'Helpless 'Debt' - buy now: http://bit.ly/HelplessUK - The winner will be announced on Wednesday 16th August. Download the video from this link to upload to your Instagram, Twitter etc: http://bit.ly/Helplesssinkhole
Debt, a 10 song excursion in dissonance, does everything it needs to in the time it takes most bands to open up. This is no drawn out prog opus; instead, a supremely dark, engagingly short, sharp, shock to the system. If further musical pointers are needed then perhaps the menace of early Gaza and the turn-on-a-dime musical dexterity of Breather Resist often combined with grindcore would be a good place to start.
Having previously delivered on their promising self titled EP, HELPLESS have returned with a savagely blunt album that not only increases their sonic intensity tenfold, but expands their palate from a chaotic hardcore base into grindcore, noise rock and even figurative elements of death and black metal. This is not for the faint of heart.