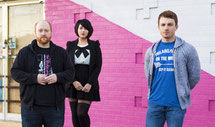 Nashville, Tennessee residents The By Gods are pleased reveal 'Wait Up' – another new track from their forthcoming new album Move On set for release on 20th October 2017.

Straight off the back of a lengthy US tour, the band have also announced their first ever run of UK headline tour dates for October 2017 (see below for full dates).
The new album was produced, mixed and engineered by Alex Newport (City & Colour, Deathcab For Cutie, At The Drive-In, Tigercub, Black Peaks & more) who was instrumental in the band finding their new sound, and it's a marked departure for the band from their earlier material.
Commenting on the single, front man George Pauley says: "Originally, we wanted this song to be kind of a throwaway - just us messing around in the studio. It was supposed to be a short interlude, if you will. We didn't have any expectations for it, but our producer Alex really latched onto it and wanted us to develop it a bit more. So we sat in the rehearsal space with him and worked through it and it turned into so much more than we thought it could be."
"Lyrically, the song is about a theme that seems to stay with me - being bored in a town where there is nothing to do. I've been told that if you're bored, that just means you're boring. This is probably true. But, it doesn't help growing up in a small town."
Already gaining support from the likes of Noisey, UPSET, Vive Le Rock, Consequence of Sound, IMPOSE and Clash Magazine, the trio will be revealing more new music over the coming months.