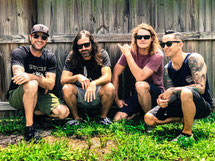 Jacksonville Beach, FL melodic punks SLED have released a lyric video for their new song "Wasting Away" off their upcoming release A Better You, which will be out September 15 via Bird Attack Records.

After years of small tours and festivals around the world, without an actual album being released, the band has finally finished their first official full-length.
SLED has assembled a collective of international members ready to play tours and fests around the world depending on the availability of the main lineup of Garrett Wadford (guitar), Micheal Fitzgerald (Fitzy) on Vocals, Matt Phillips (guitar), Lane Pittman (bass) and Kyle Helm (drums). Other members are Justin VanWestbroek of Guttermouth, Will Frazier of Whole Wheat Bread, Luis Martinez of La Armada and Simo Perini of Guttermouth/This Is A Standoff.
In the punk realm there are many different genres out there, but the band says they like to think they are "Skate Punk meets Stoner Rock." You be the judge of that. The record was tracked by Daryl Phenneger (notable projects include Evergreen Terrace, Red Jumpsuit Apparatus and the latest Guttermouth) along with Dustin Brack tracking vocals. Mixed and Mastered by Andy Carpenter (notable projects include Direct Hit, Supersuckers and The Dwarves).