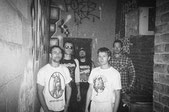 After a lengthy hiatus hardcore outfit NO WARNING are back with their third album Torture Culture, their first since 2004's Suffer, Survive.
Torture Culture is due for release via Last Gang/SPV on the 13th October and is available to pre-order here: http://smarturl.it/tortureculture
To coincide with the announcement NO WARNING have released new single 'In The City' which was originally premiered via The Fader.
Check out the single here:
"We have attempted to express the condition of the human mind that is an outcome of being brainwashed by corporate controlled social media, through a modern and classic feeling hardcore album," explains Ben Cook of the band. "Kind of like the scene in Clockwork Orange, when Alex has the lid locks over his eyes and is being forced to watch horrific footage over and over again. We are trying to manifest that torturous feeling; that in a time like this even if you want to look away you can't escape the propagandized media, especially amidst the thick of an overpopulated garbage pumping world. The evolution we have experienced both mentally and physically, and the day-to-day panic and anxiety that we feel is actually a result of our own species' selfish and repulsive impulses."
 
On September 8th NO WARNING will set out on a North American tour, playing 20 shows before the tour's conclusion on October 1st.
No Warning's return jettisons the overly processed fakery of many of their contemporaries in favour of authentic noise, capturing real performances in rich analog tones and back-to-basics crunch without sacrificing modern clarity or power.
 
Thematically it's about dwelling in the gutter while furiously clawing toward the light.

 
The new album is grimy, pulverizing, and antagonistic street punk in a mind-meld with menacing metalcore, comprised of towering riffage, blistering solos, and raw vocals. No Warning don't so much as borrow hooks from the past as they've studied the very essence of what's come before, from Bay Area thrash metal to New York hardcore, from post-grunge melody to melancholy balladry and back again, all through their own lens of discontent, simmering non-compliance and stark rage.
 
Ill Blood (2002) quickly established the band as impossible to ignore contenders within the hardcore punk scene, earning them shows with iconic genre stalwarts like Cro-Mags, Madball, Sick Of It All, and Hatebreed across North America. Praising the band's "no holds barred attitude and punchy riffs," Noisey observed, "No Warning's influence solidified Canada's pin on the hardcore map and got people to recognize Toronto as a destination for the genre."
 
Suffer, Survive (2004) surfaced on Machine Shop Records, a major label imprint co-founded by Linkin Park. Shows with diverse artists like The Used, Papa Roach, and Fear Factory followed, in addition to high-profile spots on major international festivals and on the Projekt Revolution Tour with Korn, Snoop Dogg, Ghostface Killah, M.O.P. and Downset. All of it put No Warning in front of larger crowds, while at the same time quickly burning out its members with over exposure and a classic case of "too much, too soon."
 
While the band went away following a quiet near-dissolution in 2005, the members of No Warning never disappeared. Some of them became in-demand ghostwriters for major artists in the worlds of pop, hip-hop, pop punk, and rock. Hardcore heavyweights Terror recruited guitarist Jordon Posner. No Warning's singer has been involved with enough projects to warrant a "Top 5 Ben Cook Bands" listicle in Toronto Now, saluting troublemakers Fucked Up, '80s inspired pop of Yacht Club, and Cook's solo alias, Young Guv. No Warning's 2013 comeback 7", the fittingly titled Resurrection of the Wolf, saw release through Cook's own Bad Actors label.
 
The positive interpersonal vibes engendered between Cook, Posner, and fellow longtime No Warning members Matt DeLong (guitar), Ryan Gavel (bass), and Jesse Labovitz (drums) across a series of reunion shows in North America and Europe encouraged them to continue playing together, leading to the new album's creation.
 
Drums were tracked near Hamilton, Ontario on Canada's largest First Nations reserve, Six Nations. The rest of the album was recorded in Toronto's East End. The band collaborated with engineer/mixer Chris Creglia. Mastering duties fell to Joel Grind, the mastermind and sole official member of neo-thrashers Toxic Holocaust.

Torture Culture is more of a spiritual successor to Ill Blood, following in the tradition of early Cro-Mags, Bad Brains, and Leeway, with the bounce of street metal groove.
 
None of the industry forces drawing them toward the so-called "mainstream" on their second album are present anymore. The band sounds refreshed and realigned, firmly planted in the sound they started with plus the newfound confidence to incorporate elements of bands like ZZ Top, Black Sabbath, Judas Priest, Scorpions, Ozzy Osbourne, and other giants of late '70s and early '80s hard rock and heavy metal.
 
Back in the day, it wasn't uncommon to see Cro-Mags opening for Venom or Motörhead, or D.R.I. t-shirts at Testament and Exodus shows. That spirit lives on with No Warning, culminating in a freshly modern take on a classic crossover sound that's as invigorating and cathartic as it is inspiring, angst-ridden, and pissed off.