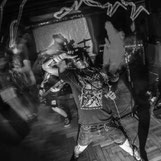 Myteri from Gothenburg, Sweden are back with their second full length with epic, soaring and heavy as fuck crust punk that will make you wanna raise your fist to the sky, get into your riot gear and start a full blown fucking riot.

Myteri`s music evokes apocalyptic landscapes, torn apart by war, plague, misery and  famine, but their songs are not completely devoid of all hope. There is a shining light in this band ́s music that seems to be almost incendiary, like a torch for survival. The last light of hope left in a world otherwise plunged into shadows. The only light left to find the way out of the misery mankind has pulled upon itself. Survivalism and freedom are huge conceptual elements in epic crust like this, and Myteri seem to really have wanted to emphasize this with their sapient use of epic d-beat gallops, war-torn vocals, and heavy, melodic riffing. Myteri`s debut full-length album is a sprawling and unforgiving opera of darkened heavy punk that draws much influence from legendary crust bands like Amebix, Antisect, Anticimex and Totalitar and from head-on collision-like d-beat bands like Wolfpack, Doom and Disfear.
But the real genetics of the band like mostly in epic Spanish crust like Cop On Fire, Ictus, Ekkaia, and emo-crust in the vein of Fall of Efrafa, Remains of the Day etc., where the punk assault can be real, incumbent and heavy as fuck, but eerie melodies mostly coming from the guitars can also make the songs more luminous and atmospheric. In any case, this is a prime example of amazing melodic heavy crust, if you like Tragedy, this shit will clamp on to your soul and not let you go ever again.