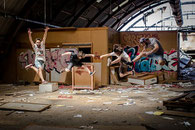 A few weeks after unveiling the single "Bad Jokes Never Die" as Digital Release + Official Music Video, French Brutal Rock unit Time For Energy just unleashed a brand new audio excerpt from its upcoming album with the song "Prick" available right now on Bandcamp while the pre-orders are opened now at the same location.
Since 2008, Time For Energy played, as a French four-piece band born around the area of Nantes, a very exciting mix of hi-energy modern rock'n'roll, power-punk, emo/hardcore indie from the 90's and alternative-metal called : "Brutal Rock".
After a debut and self-titled EP in 2012, the band released a second mini-album called 'Waterfall' two years later and then played on stage with bands such as Norma Jean, AqME, Psykup or The Butcher's Rodeo before to begin the work on its debut full-length effort.