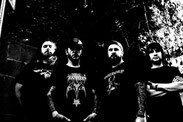 With the impending release of ALL PIGS MUST DIE's Hostage Animal LP nearing through Southern Lord late this month, Invisible Oranges is now hosting a premiere of the album's title track, alongside an exclusive playlist feature on some of the albums which helped influence the record.

ALL PIGS MUST DIE comes crushing forth with their follow-up to 2013's lauded Nothing Violates This Nature with the by-the-throat rampage of Hostage Animal, delivering ten new tracks which distill aggressive music to its purest tenets. The lineup has expanded to a quintet since prior records, with guitarist Brian Izzi (Trap Them) joining vocalist Kevin Baker (The Hope Conspiracy), drummer Ben Koller (Converge), bassist Matt Woods (Bloodhorse), and guitarist Adam Wentworth (Bloodhorse). Featuring some of the most well-seasoned musicians in the scene, Hostage Animal showcases the band's most dynamic songwriting thus far, while retaining every bit of contempt and aggression fans have learned to expect from ALL PIGS MUST DIE.
Also hear prior singles "Blood Wet Teeth" and "A Caustic Vision"
ALL PIGS MUST DIE unleashed their first full-length in 2011 with God Is War, the thirty-minute rip a nod to primeval disdain and anger. Exploring facets of human conflict one track at a time, God Is War introduced the world to a whole new spectrum of rage. In 2013, APMD upped the ante with Nothing Violates This Nature; having honed their craft with more speed and filth, the band pushed their sound closer to the edge. Now, in 2017, the band is preparing to issue Hostage Animal which, like its predecessors, was recorded at Kurt Ballou's GodCity Studio, but that is where the similarities end; Hostage Animal ushers in ten new songs that pulverize, gnash, and whirl with the band's most punishing delivery yet. Hostage Animal showcases that ALL PIGS MUST DIE is far more than the sum of their parts, and their fusion of crust punk, hardcore, and metal is more ferocious than ever before.