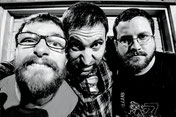 New Orleans punk rock power trio HiGH will release their upcoming full-length record 'Evil Gene' today via Los Angeles based indie label, Wiretap Records.
The album was produced/engineered by James Whitten (PEARS, Thou, Donovan Wolfington, I'm Fine, Streetlight Manifesto) at Hightower Recordings in NOLA.
"Evil Gene" is available digitally and in 12" vinyl format. Pre-order the 12" LP at http://wiretaprecords.limitedrun.com/products/603266-high-evil-gene-12-lp.
Most recently seen at Fest 16, HiGH formed in 2013 and quickly gained a following with fans of their fuzzed out, melodic rock n roll. Their first full length, "Bummer Burner," was independently released in 2015.
The band consists of Isidore Grisoli (vocals / bass), Craig Oubre (guitar / vocals) and Joshua White (drums / vocals).