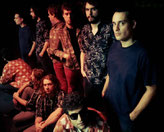 Athens' basement garage punk outfit Bazooka follow up their sophomore LP "Useless Generation" with their new 4-tracks 12" EP "Zougla (Jungle)".
In their new work, Bazooka broaden their musical horizons even more, without losing the power and impetuosity of their sound, while they return once again to their roots, emphasizing the Greek verse. The opening track, "Zougla" is fast, psychedelic and very raw, a straightforward guitar riff combined with a Fela Kuti like drumbeat that leads you inside a world of animal noises guitar soloing and congas blast. Fast, heavy and groove as hell. Out of the animality and into the immortality.
"Zougla is the jungle. The influence of propaganda in people's minds encourages a craziness within our modern world. This creates an anxiety felt by all. Where is the truth to be found? Is there a God to save us? Where is the love, the compassion and all the qualities that make us human? The answer is within ourselves."

From the tribal groove of the opening track "Zougla" and the acoustic dynamics of "Exailosou" to the scaled "I Diki Sou Sira" with its new wave passes and last but not least, the psychedelic references of "Thelo Fisi", the sound of Bazooka – based once more on Greek verse – evolves. The band goes beyond limits and manages to sound disintegrated, chaotic but at the same time absolutely raw and impetuous.
Bazooka were formed in 2008, in Volos, where Centaurs were living, consisting singer/guitarist Xanthos Papanikolaou, guitarist Bill Tzelepis, drummer John Vulgaris, keyboardist Panos Papanikolaou and bass player Aris Rammos. In the same year they moved to Athens in order to fulfill their need to play live. At a time when the Greek capital was undergoing a severe economic crisis an underground musical renaissance flourished through a multitude of DIY squat venues that hosted the city's best punk and psych-rock bands. Bazooka were quickly found to be the most savage crew of the incredibly corrosive rock'n'roll scene that includes Acid Baby Jesus, Gay Anniversary and A Victim Of Society.
Bazooka's debut LP was released in 2013 on Slovenly Recordings, following 7inch EP's on Inch Allah "Shame Take My Brain" and Slovenly "I Want To Fuck All The Girls In My School". In 2016 they released their second full album for Slovenly Recordings with the title "Useless Generation". In the past five years they have toured Europe several times as well as the US.