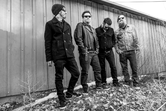 A Vulture Wake, featuring Chad Price (ALL/Drag The River), Joe Raposo (RKL/Lagwagon), Sean Sellers (Good Riddance/Real McKenzies) and Brandon D. Landelius (The Mag Seven) releasing 'The Appropriate Level of Outrage' on January 31, 2018 via Bird Attack Records

AVW recorded their first 10-song full-length album in January 2017 at the infamous Blasting Room in Fort Collins, Colorado. The album, 'The Appropriate Level of Outrage,' will be released January 31st via Bird Attack Records (88 Fingers Louie, Guttermouth, Belvedere, Such Gold, Authority Zero), with the EP to follow in Spring 2018.
The band formed in early 2016 when Brandon sent several instrumental demos to Chad and asked if he would be interested in starting a new band with himself and Sean. Chad started working on melodies & lyrics almost immediately.
Needing a bass player Sean reached out to longtime friend and former bandmate in The Real McKenzies, Joe Raposo. Joe was in without even hearing a note. Over the next few months, demos were emailed back and forth, refinements were made and in May 2016 Chad, Sean and Joe traveled to Brandon's home in Amarillo, Texas where they played the songs together for the first time. 2 days later they recorded a 10-song demo and began working on booking shows.
Their music is best described as honest, energetic, passionate, and at times technical punk rock with the songs always maintaining a strong sense of melody.
A Vulture Wake has played shows with the likes of 7 Seconds, Strung Out, Pulley and more.