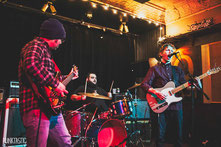 Triple Eye Industries will release Spinning the stunning new record by Chicago's HIGH PRIESTS on March 23rd 2018.
Coming together in the fall of 2013 with former and current members of The Brokedowns, Wide Angles and Post Child, the members of High Priests bonded over their mutual love of bad jokes, blunts and frequent viewings of the Karp documentary. With no immediate goals in mind, the band set out to simply play noisy and discordant music that was far removed from their current projects.

Their forthcoming LP Spinning was engineered at Kildare Studios by Joe Gac (of Meat Wave). The album boasts a bombastic production value, showcasing the songs with a spaciousness that perfectly fits their arrangements. Spinning accomplishes the rare feat of finding a balance between a lo-fi basement recording and something on the more professional end of the sonic spectrum, resulting in an album filled with equal parts grit and clarity.