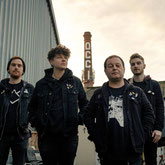 Brighton punk rock powerhouse HARKER have unveiled the music video for latest single 'Plague Your Heart' released today in anticipation of their forthcoming debut album and sold-out release show.
Taken from their upcoming debut album 'No Discordance', the video is filmed and directed by the band's bassist, Phoebe Saunders and features some fuzzy yet action-packed 90s-style home video.

Commenting on the meaning behind the song, vocalist Mark Boniface said: "Plague your heart is about the breakdown of trust in a relationship and the guilt  from actions taken by a person to break that trust. By nature, we all want to be a good person, but our past mistakes can plague us".