East Coast crossover titans IRON REAGAN and rising Sonoran death metallers GATECREEPER unite for a split recording of cranium crushing proportions. Across 8 new tracks of auditory and lyrical venom, both bands showcase why they're two of the most talked about groups in extreme metal today! The split LP, mixed by Kurt Ballou at Godcity Studios, is due out March 2 on CD/LP/Digital via Relapse Records.
IRON REAGAN are no strangers to the fine art of crossover thrash. Comprised of veterans Tony Foresta, Phil Hall, Mark Bronzino, Rob Skotis, and Ryan Parrish, between them they fill, or have filled the ranks of Municipal Waste, Cannabis Corpse, Mammoth Grinder, Darkest Hour and numerous other bands. Formed in 2012, the punk-metal quintet quickly released a demo EP followed by their debut full-length, Worse Than Dead via A389 Recordings, and splits with both Exhumed and Toxic Shock. The gang then signed to Relapse Records and released their self-produced sophomore full-length The Tyranny of Will, mixed by Kurt Ballou (Converge) in 2014.
 
Alongside the release of The Tyranny of Will came a now cult-classic music video for their song "Miserable Failure", directed by Whitey McConnaughy (Red Fang, ZZ Top), that has catapulted past 1 million views and showcases the band starting a "flash-mosh" on the streets of Portland, OR.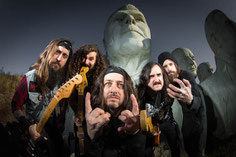 Since 2014, IRON REAGAN have toured the world almost non-stop, with high-caliber acts in the punk, hardcore and metal worlds such as Poison Idea, Napalm Death, Voivod, Skeletonwitch, The Black Dahlia Murder, GWAR, Seven Seconds, Eyehategod, etc. including appearances at Hellfest, Full Terror Assault, Brutal Assault, This is Hardcore, Party San Open Air, and numerous others.
 
In 2017, IRON REAGAN called upon thee to join the holy order of thrash on their latest full-length, Crossover Ministry. Comprised of 18 tracks and thirty minutes of frantic, punk-metal fury with relentlessly catchy riffs and irresistible, mosh-ready grooves, Crossover Ministry is a further continuation of the band's punchy, thrash gallops and unique hardcore punk attitude. Once again, Kurt Ballou was called upon to mix the record with guitarist Phil (Landphil) Hall handling the recording. Hear their vicious sermon at a circle pit near you!
 
After vigorously touring throughout 2017 supporting Crossover Ministry, IRON REAGAN unites with GATECREEPER for a split recording of cranium crushing proportions mixed by Kurt Ballou at Godcity Studios. Across 8 new tracks of auditory and lyrical venom, both bands showcase why they're two of the most talked about groups in extreme metal today!
 
IRON REAGAN is:
Tony Foresta – Vocals
Mark Bronzino – Guitar
Landphil Hall – Guitar
Rob Skotis – Bass
Ryan Parrish – Drums
IRON REAGAN's new track "Paper Shredder"
GATECREEPER's "War Has Begun"