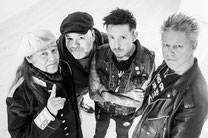 Swedish punk legends Asta Kask are celebrating their 40 year anniversary with the release of a new EP: "Historien dömer oss alla" (History will judge us all), along with reissues of 3 classic records, on March 2nd. The records are released the same day they start their 15 gig long spring tour in Scandinavia.

Asta Kask have succeeded with something very few bands from the first wave of swedish punk have: to maintain their fans while still making their way into the hearts of young punks.

The new record "Historien dömer oss alla" consist of 4 songs that brings up hate, fear and the normalization of surreptitious racism that is spreading around the globe. The material covers  the different strengths of the bands longevity: the speed of 2-beat drums, echos of raw 80's chord progression and the never ending thirst for singalong-friendly melodies. Charged with razor sharp political lyrics. If you dare to look away from nostalgia - this is the most complete and best material the band has made so far!

The EP is recorded and produced by Håkan Sörle(The Baboon Show) in Studio Årstaberg at the end of 2017. Aside from the EP they are re-issuing the classics "Med is i magen"(1985), "Aldrig en LP"(1986) and "En för alla ingen för nån"(2006) on colored vinyl. The records are released on Gaphals and the bands own label "Kloakens Alternativa Antiproduktion".
2018 sees the band celebrating 40 years since they started.
History:
1978 saw 4 boys, that would become Asta Kask, in a basement in the small town of Töreboda, Sweden. It was there, in the rehearsal room "Kloaken" (the sewer), that the unique sound was created that would come to leave a mark on Swedish and International punk bands for generations.
Fast, pissed off and still contagiously melodic hardcore punk.
During it's first active years (1978-1986) the band released EPs on a yearly basis and toured all over Sweden. What was planned to be a short "revenge" in 2003, led to the band finding a way back to each other. Since then they haven't looked back and have done a few 7"s, 2 albums and toured constantly.
Asta Kask have cemented themselves as a never tiring energetic live band- both back home in Sweden, but also in Japan, Colombia, The US, Basque country, Spain, not to mention Germany - where the tribute band is almost bigger than Asta Kask themselves.
2018 sees 4 guys, once again ready to deliver anger and passion for 2-beatpunk, with 40 years experience of "Rock mot svinen" (Rock against assholes")! With new material and of course classics from their whole career they're ready to storm the stage.
Asta Kask are not aiming to become "newcomer of the year" but 2018 will as usual be the year where Asta Kask are playing as if it's the last thing they do- and you don't want to miss it.

Asta Kask:
Micke Blomqvist- Sång, Gitarr
Bonni Pontén- Sång, Gitarr
Ernie Hörnell- Bas, Sång