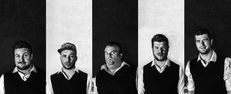 Synth driven pop punk outfit The Rocket aims to bring a refreshing take on the classics they all grew up with. With a keen ear for infectious melodies and an illustrious live reputation, the band has played big stages such as Groezrock, Europe's biggest punk rock festival.

After a break to pursue other musical endeavours, The Rocket is back in full effect. The new single 'Chain Reaction', produced by Marc McClusky (Weezer, Motion City Soundtrack, Bad Religion), is proof of the reinvigorated energy and ambition the quintet brings to the table.

About this song, guitarist Stijn stated:
"Musically, we've always been heavily influenced by bands such as Motion City Soundtrack, Weezer, and New Found Glory - that's no different for Chain Reaction. We've also always been suckers for plain, good old pop artist such as Katy Perry and Taylor Swift, and I guess structure- and arrangement-wise that's audible in this track too. On top of that, The Rocket is all about the party, both on and offstage, so we try to write songs have that certain je-ne-sais-quoi that makes people happy and gets them dancing."

Buckle up, because it's only just begun. The band's new album will indeed be out in April 2018. Stay tuned!