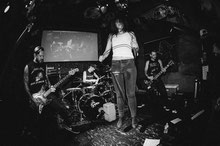 All grit and grind, Seattle hardcore quad Fucked & Bound have bared their teeth and heart on "Terror," the first single from their forthcoming debut album. Ruminating on nihilism and the dread that inevitably comes with it, "Terror" drills right into the band's wheelhouse—buzzsaw riffs, cannonball basslines, and gravel-truck vocals.
Lead singer Lisa Mungo summates Fucked & Bound's lyrical approach and "Terror"'s inspiration best: "'Terror' is an angsty, piss-driven track that screams vexation towards the patriarchy."

Born in a warehouse in South Lake Union, Fucked & Bound—featuring members of He Whose Ox is Gored—delivers Seattle hardcore that builds walls of sound just to break them down. With the forthcoming SUFFRAGE, the band barrels through thirteen songs in just over twenty minutes. Brickwalled and claustrophobic, these tracks seethe over feminism, nihilism, and the pitfalls of industry to ask, "What is the cost of good living?"
 
Suffrage is due out via Atomic Action Records on February 16.