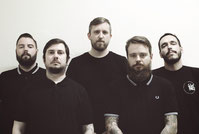 What has started to move can no longer be stopped: Since its foundation in 2011, ANCST have proved tireless that they are the spearhead of a new wave of hardcore infused black metal coming out of Germany.
With a row of releases on renowned underground labels such as Vendetta, Alerta Antifascista, Supreme Chaos or Halo Of Flies, including two albums and an array of Eps and split releases, as well as relentless touring, ANCST has proven their motivation.
They want to make a difference – and they have something to say! ANCST want to wake their listeners and put their fingers into the wounds. Thus, "Ghosts of the Timeless Void" has to sound as violent and disillusioning as it does.The band's third album is a mirror of its surroundings and time and an elegy to a world on the verge of decline.

While sporting both, a hardcore and a metal socialization, the self proclaimed collective from Berlin perfectly combines fierce melodic black metal and brutal but yet metallic hardcore crust with angry and critical social political lyrics. The unconditional implementation of their convictions, their sound and the emphasized DIY approach makes ANCST and "Ghosts of the Timeless Void" seem so unique and strong.