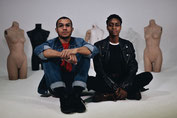 Birmingham punks YOUTH MAN are pleased to announce they have signed to Alcopop! Records and will be releasing an as-yet untitled new EP later this year.
Label boss Jack Clothier commented on the signing:
"Youth Man are a band we've been excited since my partner, who basically oversaw the Birmingham scene back then, told me about them, and we're absolutely delighted they've agreed to work with Alcopop! on this new EP. One of THE most exciting live bands around, this EP soars to new heights and will definitely tear your soul apart before patching it together way better than it was before They were on an Alcopop! compilation back in, like, 2016 – and we've been chasing them ever since. Finally got 'em. FUCK YES!"
Formed in 2012 and following tour dates with the lines of Trash Talk, Letlive., TIGERCUB and more, the duo have gained a host of praise from national press including NME, Rolling Stone Magazine, Alternative Press, Rock Sound, Kerrang!, Drowned in Sound, DIY and BBC Radio 1. Previously signed to Venn Records, owned by fellow punks Gallows, to date the band have released three previous EPs – Bad Weather (2013), Hill of Knives (2015) and Wax (2017).

The band commented on the news: "Alcopop are a wicked label whom we've watched longingly from afar for a long while. They approach releasing music in exactly the way we think it should be approached and are music fans first and foremost. It's weird that sensible people want to release music we've made. We think it might be some kind of joke – a strange hallucinatory fever dream of sorts. Maybe they're just not sensible people. Whatever. They say nice things about us. Our new music is our favourite of all the musics we have thusly so far made so it is only appropriate that we release it on our bestest most favouritest indie label. Also, they've said that if our record does well they'll buy us at least one second-hand Sodastream. Fingers crossed."
To celebrate the news the band are streaming their new single 'I Don't Know' in full today. The track is the first to be taken from the forthcoming EP, listen and share here: