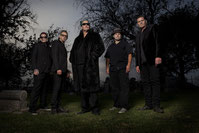 Southern California Punk Legends TSOL are set to release their new record "Live at The Observatory" on Limited Edition Vinyl via Hardline Entertainment on June 22.

Recorded live at The Observatory in Santa Ana, CA Jan, 5th 2018 by Cameron Webb (Motorhead, Pennywise, Social Distortion), "Live at The Observatory" features all tracks from the bands 1981 S/T EP and "Dance With Me" releases.
The recordings will be available and limited to 100 units each of Oxblood Red and Turquoise Blue both signed and numbered and will include a digital download card.
The record is now available for pre-sale via the Hardline Entertainment web store at http://hardlineent.com/product-tag/tsol/.