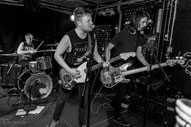 The ever brilliant Forever Unclean have today released an excellent new video for their track 'Waves' taken from last years breakthrough EP 'Float' (Disconnect Disconnect Records, Make That A Take, 5 Feet Under).

'Float' is available to buy on limited edition orange vinyl here.
The band are coming to the UK this April for Manchester Punk Festival (Propagandhi, Iron Chic, The Copyrights), along with a warmup show on Thursday 19th April alongside Waterweed, Antillectual and Rebuke at New Cross Inn, London.