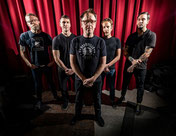 Swedish punk rock legends, No Fun At All are back and have today announced their new 12-track album, Grit, to be released on April 13th 2018 through Bird Attack Records.
Having formed in 1991, No Fun At All quickly became one of the torchbearers of European punk rock. Following the release of 1994's No Straight Angels, the band found themselves headlining stages all over the world. Through until 2001, they continued to tour all over the world in support of 1995's Out Of Bounds,  1997's The Big Knockover and 2000's State Of Flow records, before calling it a day on the band.

After a show offer in the Spring of 2004, the band found that enjoyment and love again for playing live that had been lost whilst relentlessly touring throughout the 90s. With rekindled enthusiasm, No Fun At All committed themselves to a light touring schedule over the years between 2004 and 2017, including supporting the 2009 release, Lowrider, that the band self-released through Beat 'em Down Records.

2016 saw a lineup shuffle, with two long-time members of the band deciding to take a step back. Following a band meeting in a Vienna restaurant, they decided that it was the time to step it up once again. They recruited Stefan Bratt, formerly of Atlas Losing Grip, and Fredrik Eriksson, formerly of Twopointeight to fill the empty bassist and guitarist positions.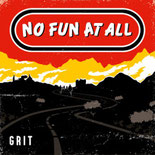 Alongside the record announcement, the band have shared the video for lead single 'Spirit' - Their first new material since 2009.

With fresh enthusiasm, the new line up jumped straight into the rehearsal room to work on the new material for Grit. Alongside a number of shows and festivals throughout the summer and fall of 2017 the band put together the new 12 tracks and hit the studio with Mathias Färm from Millencolin as co-producer in his wonderful Soundlab Studio.

Grit will be released on Vinyl, CD and Digital through Bird Attack Records on 13th April 2018