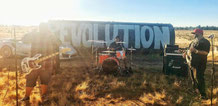 Know that feeling of being inundated with new music and fed up with the everyday stream of bands that keep coming your way?
Well, luckily, ever so often some of those bands stand out like white pearls on black satin. And one such punk threesome is Prescott (AZ) based Commission 28, or C:28 for short.
Having recently released their latest EP "Once Blind" in the States, they have now also signed to Bearded Punk Records (BE) for a European release.
C:28 are on the fast lane to becoming the must see and hear band we've all been waiting for.
They have their very own sound, mixed with influences of classic punk bands such as Pennywise, NOFX, Suicidal Tendencies and Bad Religion.
European release planned on March 19th via Bearded Punk Records.