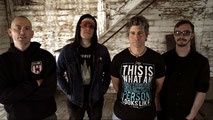 Portland punks Abolitionist are revealing details for their fourth LP, The Instant, out May 1st.
Recorded in 5 days at Supernatural Sound Studios in Oregon City, Oregon, by engineer Robert Bartleson, and mastered by the mighty Jason Livermore at The Blasting Room, The Instant compiles 12 punchy tracks, drawing sonically from a variety of punk and hardcore influences. The album also explores (through yet another dystopian storyline) the human tendency to follow the herd in the name of lofty ideals -- often at the expense of individual freedom, if not human life.
The album art & layout was done by Horsebites (Fat Wreck Chords, Epitaph, The FEST), who previously did art & layout on the band's first and third LPs.