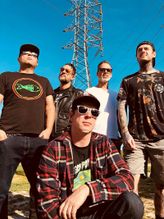 In case you just woke up from a 30-year coma (bummer for you), here's a quick primer on Strung Out: Way back in 1989, Jason Cruz got the bright idea to start a punk band with his guitar-playing buddies Rob Ramos and Jake Kiley. It wasn't the kind of plan that required much more preparation than play fast, play loud, play all the time. No one thought this high school band would become a career. Yet here we are, nearly three decades later, and Strung Out is not only still active but thriving, a paragon of punk and an inspiration to thousands of fans (and musicians) worldwide.
While Strung Out has made their name on intense, frenetic slabs of metal-influenced tech-punk, there is more to the band than meets the eye. It might come as a shock to learn the band's new eight-song release, Black Out The Sky, is an acoustic affair, but as Cruz says, it's not nearly as surprising for the band members."Every song starts on an acoustic guitar for the most part," Cruz begins. "If it's a good song, it can be played acoustic. For about the past five years, I've been pushing the band to try an acoustic release. These guys are great musicians—we can do anything."
 
Cruz and his bandmates—Kiley, Ramos and bassist Chris Aiken—began working on Black Out The Sky in January 2017 with producer Kyle Black, who they had previously teamed up with on 2015's blistering Transmission.Alpha.Delta, and who played a role in the band deciding to re-work two older songs, "Matchbook" and "UnKoil," for the release. "Kyle is a fan of the band," the singer says. "I am the kind of person who wants to stray and go out into the unknown when I'm in the studio, but Kyle represents our fans. He didn't let me stray too far with the melody or the music—just far enough to keep it fresh."

With no set deadline on the release, the recording process went on for nearly the entirety of 2017, allowing for song arrangements to bloom in ways Strung Out songs never had before. "The songs came out really super-dark, not jingly-jangly acoustic stuff," Cruz says. "We had to get other musicians involved. Some of it is sparse and intimate, and some of it has a lot going on."
 
During the recording process, the band decided they needed to part ways with Jordan Burns, the band's drummer since 1993. Cruz stresses that this decision was not an easy one to make, but it had to happen for the continued existence of Strung Out. "I think the band needed it," Cruz admits. "It needed to happen for the band to survive and grow. We got to a point where we were going to break up if it didn't."
While in the studio, Strung Out realized some of the acoustic songs still needed drums. So the band enlisted their friend Sean Winchester, an accomplished drummer who has played with Everclear, Buckcherry and more, to fill out their sound. For their upcoming live shows, Strung Out will enlist RJ Shankle of California skate-punk band (and former tourmates) Runaway Kids to man the throne. Cruz is ecstatic about not only the fresh blood in his band, but what it means moving forward.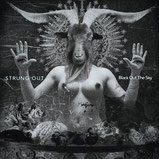 "Really, the whole theme of this record is rebirth," he explains. "It's the rebirth of our brotherhood and being a band. It's astounding when you can keep a relationship together for three decades. There's something so special about the music we write. We're brothers beyond any kind of blood. It vindicates that we're doing something right. "I always ask myself, 'What nerve do I have to get in front of a microphone?'" Cruz continues. "The fact that I kept this relationship together for 30 years says we worked through some shit. In our darkest times, we always came out with something beautiful because of it. In my mind, that gives me the right to get in front of that microphone."
 
On Black Out The Sky, Cruz continues to dig deep internally, exploring parts of himself he's yet to fully understand, taking the listener along for the ride, no matter how bumpy it may get.
"When we were kids, we all said, 'Fuck God, fuck religion, fuck the government, let's destroy it all,'" the frontman states. "Great. We did that. Punk rock did that. What are you gonna replace it with? Black Out The Sky is all about looking inward and finding what's always been there, that intuition, that something to all of us. I don't know what it is, but it's the journey to find it and acknowledge it."
 
Musically, the EP careens from songs that could be ported to full-band electric arrangements easily ("Requiem," the title track) to mid-tempo grunge indebted to Alice In Chains ("The Architect") to a full-on rollicking country song ("Duke Of Sorrow"). Cruz's favorite number is "Town Of Corazon," a surprisingly fragile song from a band who is usually anything but that. "'Town Of Corazon' has the most balls we've ever displayed because it's sweet and tender," he admits. "It brings reference to spring and a new awakening. I'm so tired of screaming, the same riff, the same breakdown… I can't stomach it anymore. Slipping in a sweet melody is the punkest thing we could do."
 
Nearly three decades in, Strung Out is not driven by trends but instead by each other. As Cruz relays, "There is no 'me' in this band. It's us. Whatever we think of, we're gonna do it. Sometimes, people want to maintain a youthful aura about their band. That's gone. We're old dudes. But we've learned a thing or two. There's nothing wrong with being an old dude. Lemme show you a road that I found; come with me."