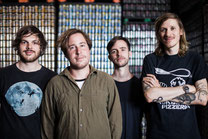 Austrian melodic-punk rock quartet, ASTPAI have released the lead single, 'Best Years', taken from the bands fifth studio album, 'True Capacity' - Set for release this June.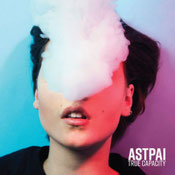 'True Capacity' features 10 tracks of melody infused ragers, that the Viennese punks have become renowned for all over the world. The release sees the band continue their relationship with Jump Start Records in the US, as well as seeing Shield Recordings handling all things in Europe.
Speaking on the record, vocalist, Zock said, "When re-reading all the lyrics before recording, the word that stuck out the most is the word 'mind' - I feel like the older I get, the less my brain/mind/sanity/happiness manages to catch up and adjust to the ongoing impact of both useful and useless information - I've been going through really dark and intense phases of feeling absolutely full...you know, like a hard drive that reached its limit.

"The term "True capacity" is used to describe the maximum limit of production of (industrial) machines. I like the thought of using this term, comparing the way that it describes the capabilities of something soulless like a machine and the human brain/mind. The artwork underlines this idea in the way that our brains and emotions are unable to compute all the information we're given. Daantje Bons really hit the nail on the head with her amazing cover photo.

"The lyrics on the album are a little less analytical and a little more 'philosophical' i guess...they're all based on personal experiences, some turned out somewhat political, most are either self-critical, self-analytical and at their very core, a sign of exhaustion, sometimes disappointment, but also love and admiration, related to depressing situations and experiences."

'True Capacity' has seen ASTPAI team up with Tom Zwanzger at S.T.R.E.S.S Studios, Graz for engineering and production. The band also enlisted close friend Chris Cresswell of The Flatliners for vocal production. The record was mixed by J Robbins at Magpie Cage, Baltimore USA and mastered by Dan Coutant at Sun Room Audio, Cornwall NY USA.
Live:
16 MAY - Ulm DE, Cat
17 MAY - Freiburg DE, White Rabbit Club
18 MAY - Arlon BE, L'Entrepôt
19 MAY - Beauvais FR, Chaudron Baveur
20 MAY - Paris FR, This Is My Fest
21 MAY - Rennes FR, Bar Hic
22 MAY - Brest FR, Le P'tit Minou
23 MAY - Nantes FR, La Scene Michelet
24 MAY - Lyon FR, Hard Rock Cafe
25 MAY - Geneva CH, Le Bouffon de La Taverne
26 MAY - Bern CH, PlanetSpade
28 JUN - Vienna A, Arena (Album Release Show)
12 JUL - Berlin DE, Astra Kulturhaus w/ Descendents
16 JUL - Wiener Neustadt A, Triebwerk
17 JUL - Ljubljana SLO, Gala Hala w/ A Wilhelm Scream
18 JUL - Zweisel DE, Jugendcafe