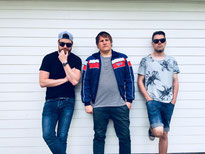 "Stuck in a dream" is a singalong skatepunk tune which points in the direction to where Freedumb is heading musically. With both feet still trodding the rough punkrock landscape, Freedumb now sets out to explore the more melodic corners of the realm rather than the hardcore and thrashy ones in which they were born. Lyrically it is a journey into confusion and chaos and the feeling of being a passive bystander to ones own reoccurring nightmares. Who hasn`t had an unpleasant dream…?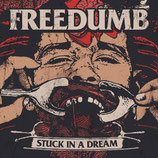 Freedumb is part of the Østfold scene of Norwegian punk rock from the 2000's. The musical style of the band is punkrock with solid elements from rock/hardcore/thrash. Current lineup is Torstein Eriksen (vocal/bass), Kim Trøbråten (guitar) and Arne-Magnus Fjelle (drums).

Torstein Eriksen, Thomas Walland Hansen (guitar) and Ole Vanem (drums) formed Freedumb back in 2003, naming the band after a song on the album Liberal Animation by NOFX. All the members were involved in the punkrock scene in Moss that evolved around local venue Kråkereiret. The band self-released the demos "You have the right to remain silent" in August and "Freedumb Fighter" in November 2003.

 "The Freedumb X-pedition" was released on Anti Rock label in February 2005. In 2008 Freedumb recorded and released «2 wrongs and 1 right» with longtime touring-buddies Göttemia, and in 2009 the band hooked up with producer Ruben Willem to record what was to become "The Freedumb Curse" (released in 2010 on local label Tonehjulet Kräftpest).

 During the winter and spring 2011 drummer Jonas Kjærnsrød (Norsk Råkk) was recruited on drums and Kim Trøbråten (FORK) who played together with Eriksen and Kjærnsrød in a short-lived band called PMRC, joined Freedumb on guitar. This lineup did a mini tour in May 2012.

 Hansen joined the band again to perform at Kanalrock in Horten in summer 2013 for a 10 year anniversary show and the band put together a limited demo compilation called «Nothing can blast forever».

 In the fall of 2013 Eriksen, Trøbråten and back again-drummer Vanem started working on new songs and performed a show at Tons Of Rock, Halden in 2014. Freedumb contributed on the Raga Rockers tribute album with «Parasitt» in 2015. 2016 saw the release of «Feeding The Tapeworm» and the band went out on a nation wide tour to promote the album. After the tour Vanem decided to quit the band.

 In 2017 Petter Cindahl (Bits Between) became the new drummer. The band was signed to Big Day Records and recorded 9 songs for an upcoming album. In October 2017 Petter Cindahl tragically passed away and the band was put on hold to cope with the loss of their friend and drummer. In the winter for 2018 Arne-Magnus Fjelle (Blodstrupmoen) joined as the bands new drummer and played their first show in April at Verkstedet in Oslo, together with labelmates Hepatit-X.