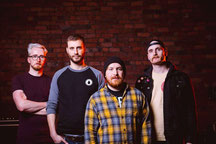 Politically charged Leeds tech punks THE HUMAN PROJECT are back with a brand album titled 'Clarion Call' set for release on Friday 6th July.

The band have offered up their first insight into their highly anticipated album with a new single and video for 'That One Percent'. A furious riff-filled punk track, it serves as a passionate rally cry and "frustrated swipe" at the conservative led government of the UK and the austerity they proudly impose. 

"The everyday, on-the-ground results of the austerity regime are this kind of bland injustice, laughably obvious in the way it is targeted, and, in the way it is backed up and spread by people with vested interests in the media, but unfortunately inescapable for most ordinary people" explains vocalist/guitarist, Luke Yates.
Where their previously released album 'Origins' released in 2013 through Bird Attack Records preached a heartfelt message of unity and of tolerance for your fellow humans, the Yorkshire based quartet (which features ex/members of CRAZY ARM, RANDOM HAND and SOUNDS OF SWAMI) have like many others seen their attitude shift over the course of the last few years. A shift brought on in no small part by the sudden rise of Trump, Brexit and the so-called 'alt-right'.

"Origins focused on seeing both sides of an argument, fact checking and encouraging those people who vote for right-wing parties to see the damage done to others and themselves. The difference now is we've lost our patience somewhat. The Brexit vote was a slap in the face (particularly for younger people) and should be a wake-up call that much greater political engagement is needed if we're ever going to see another non-tory government".

Piecing the songs for 'Clarion Call' together over the past 5 years, the album was eventually brought to life by producer Andy Hawkins (Hawk Eyes, Random Hand) at The Nave, Leeds earlier this year. The band worked hard to find a balance between furious riffs, technical prowess and well-written enjoyable songwriting - "songs, not just parts" Luke comments, explaining that their influences come not only from punk rock staples like Propagandhi but also from artists outside the punk sphere like Reuben and Thrice.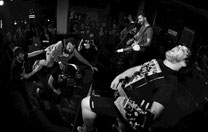 Such was the need to create nuanced material, the band worked extra-hard to develop every aspect of the record to it's fullest. Vocalist, Guitarist, Luke Yates who works as a sound engineer doubling up his efforts to help capture the delciate vocal harmonies that underpin the album. While, bassist, Joe Dimuantes layed down not only has native bass and vocal parts but also drums on the recordings, covering for recently departed drummer Dan Powell who had moved to Moldova.

The Human Project can be counted among the cream of the crop when it comes to European skate-punk and technical punk rock scene. Recently touring with the likes of A Wilhelm Scream and Ignite and sharing stages with Strung Out, Less Than Jake, Mad Caddies, This Is A Standoff and Agent Orange, the band have attracted fans internationally from their touring efforts and this June will make their first visit to Japan for a 10-day trip.

Together with their upcoming Japanese tour dates, The Human Project have also announced two special album release shows taking place at The Key Club in their hometown of Leeds and The Macbeth in London to celebrate the release of 'Clarion Call'.