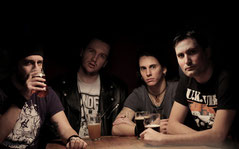 The new album from Swiss punk rock act Neutral Bombs is titled Pretend To Fly and it's an original celebration of life, of which death is also an integral part.
The album kicks off with the killer song Still Shout, an anthem for all those who never give up and then continues with a hymn to live music Alive And Well and No Attitude, a fast and short classic punk rock song. Dancing In The Moonlight, which tells about a clandestine love, is the only song present from the first EP of the band published in 2015, Another Culture Dies. Another love song is Never, a slow song from the band, which is a about suffering. Inside the LP there's also some space for a delicate theme, such as euthanasia, with the song Exit. The title is a clear reference to "EXIT", a democratically organised society of the Swiss law dedicated to the cause of human self-determination. Raise Your Glass (Not Your Phone) is a very fast and short song, a tip to enjoy gigs instead of using phones all the time to take pictures and videos. Fights is a criticism against those who (politicians included) are unable to discuss problems without violence and cannot face a man-to-man conversations in order to solve their problems.

With the arrival of the Gay Pride in their city for the first time, the band wrote a song about LGBT rights, the track Pride. This is an important event in a small conservative city such as Lugano, and Neutral Bombs face it in a very positive way with the coming out of the singer. Pretend To Fly ends with the tracks Ship Of Fools, the single released in December, and Wait Too Long, the longest song of the album which is a reflection on the passing of time and on lost opportunities.