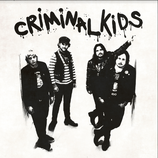 Kick ass rock bands don't have to be pretty to be amazing bands, they don't have to wear skinny jeans and eyeliner. Chicago's Criminal Kids are the real deal when it comes to raw and real rock. This is the debut release from Criminal Kids and it is a ripper.
It has everything you want, riffs, attitude and energy. Truth be told, Spaghetty Town Records signed Criminal Kids after seeing them one time at the Down South Showdown in Atlanta earlier this year, that's how good they are.
This is a band that you have to play and play loud!
Out of the desolate music scene on the far southside of Chicago, Criminal Kids blur the lines between Punk & Rock N Roll. After a few notable shows from Chicago to Milwaukee and a few well liked demos, Criminal Kids took a break. Mid 2017 Criminal Kids were resurrected full time with a lineup change and a whole new attitude. Taking influence from 70's Punk, Rock N Roll, and hints of everything in between, Criminal Kids are here to throw a left hook at the music scene in the modern day. Fresh off a tour with Wyldlife (NYC) and an upcoming 12 inch release, there shows no signs of letting up any time soon.