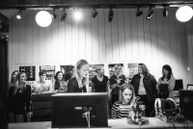 Riot Grrrl Sessions is a music and art project in Stockholm, Sweden. In September 2017 a dozen punk and rock musicians joined forces in a studio for one weekend to write, rehearse and record the worlds first Riot Grrrl Sessions.
Besides making new friends, jamming and having a lot of fun this session resulted in a 13 track album, "The First Session", that will be released upon the world on 15th of June 2018 on vinyl, cd and digital platforms. Everyone involved in this project from musicians to label to graphic designer to sound engineers are women, non-binary or transgender people.
Why Riot Grrrl Sessions?
There are so many talented riot grrrls out there and everyone are busy with their current bands, which is awesome. But what if I was able to take only a minimum of their time to start something new? Because the world needs more great music. More Riot Grrrl music.
That's how the whole idea of Riot Grrrl Sessions came alive. Canan Rosén, a punk rock musician from Stockholm, Sweden, came up with the idea: One weekend in a studio, a dozen riot grrrls, writing, rehearsing and recording an album.