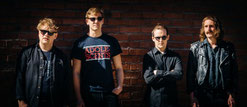 Rotten Mind releases their single "Trouble Child". It's the second single from their upcoming album "Fading into Oblivion", and the perfect follow up to "Restless Soul" that was released via Lövely Records in June this year.

The darkness is ever present on Rotten Minds third album 'Fading Into Oblivion'. Set for release September 7, the album consists of ten tracks of eccentric punk expressions that clashes with a cold and nihilistic atmosphere and creates a soulful and personal experience. Tracks as 'Years of Decay' and the title track 'Fading Into Oblivion' got an almost gothic approach to its gloominess at the same time as a bright light of hope is tangible.
The album also contains classic songwriting with songs as 'Restless Souls', 'Aspiration' and 'Trouble Child' that instantly gets stuck in your head. A huge amount of integrity surrounding the melancholy melodies of the ten tracks that bring to mind a modern Scandinavian sound. The album finds its greatness in its stripped-down sound and its simplicity.