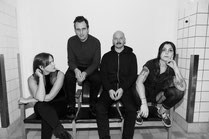 Twin Pigs formed in Stockholm, Sweden in 2015 to create songs that will feast on your soul until the day you die.
Guitarist Canan declared after just a few weeks of rehearsals that "we are too good to put out demos, let's make a record!". Said and done.
Debut album "Chaos, Baby!" released in 2016 on Luftslott Records. The second record, Scandinavian Nightmare, drops upon this world on September 7th, 2018.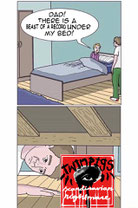 The band quickly found comfort in all fortune and fame that came their way (which all of you know is pretty rare for most HARD CORE PUNK ROCK bands these days). "Chaos, baby!" got nominated to Swedish national radio P3's awards for best rock/metal besides heavy rotation. Other high lights might be when they played the Norwegian showcase festival By:Larm in 2017 and got hand picked by Swedish hardcore legends Refused to play at Umeå Open which they curated. Twin Pigs has performed live in everything between Swedish National TV and your next door moldy punk basement. And here we are, just a few days before "Scandinavian Nightmare" will blow everyone's head off. The band will now head out on the roads again, some extensive headline touring and as support act to skatepunk giants No Fun At All & Satanic Surfers.
Twin Pigs are Andreas on drums, Canan on guitar and vocals, Erik on "vocals" and Klara on synth bass and vocals.
Scandinavian Nightmare: