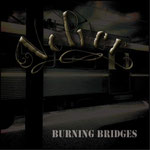 VOLVER will release their debut album, called "Burning Bridges", on September the 28:th 2018 through AMTY Records. This will be a digital release on most common platforms.
You can check out one song from the album already on youtube, "A Mind Of My Own", here:
The Album:
BURNING BRIDGES is the first release from VOLVER, a Swedish punkrockband formed by members of Oldfashioned Ideas and Gatans Lag. 12 songs with a "Motorhead meets Rancid filtered twice through activated carbon" sound.