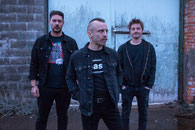 Hull hardcore punk trio THREE DAY MILLIONAIRES are delighted to share with the world their brand new single 'The Snub' out today and available through all good streaming services.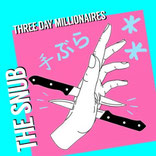 Commenting on the track bassist/vocalist Daniel Harrison said: "I remember walking into practice one night with the chord progression for the chorus and the vocal melody. It was always going to be a feel-good song, at least lyrically, but I distinctly remember feeling like a massive weight had been lifted off my shoulders. It was like the song grasped all my negative emotions and energy and turned them into something positive. I feel great every time we play it".

Named after their hometown's trawler men of years gone by who would return home after weeks at sea and quickly drain their pockets in the local watering holes, Three Day Millionaires are Hull to the bone.

Hull is a city with a complex fabric of people, culture and viewpoints. It is a city that rebuilt itself after the blitz, after the demise of the fishing industry and again after countless recessions struck hard and once made it one of Britain's poorest cities. The indomitably that is required for such feats runs in the blood of locals and it is a spirit and temperament that adds rich texture to Three Day Millionaires sound. Quick-to-the-trigger hardcore punk, wound up tight and packed full of adrenaline.

Well acquainted with the term 'underdog', Three Day Millionaires demonstrate their pedigree for all to see on their latest single, 'The Snub'. Earning their stripes in well-loved UK punk acts like The Freaks Union and The Living Daylights, Three Day Millionaires offer a musical maturity that can only come from experience. From touring the depths of Eastern Europe in a clapped-out transit van to famed Reading & Leeds Festival appearances, the band have learned a lot but are eager to scale even greater heights this time around.