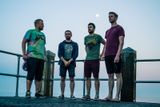 Yuzi is the first single from Burnt Tapes debut LP 'Never Better'. This follows their 2017 EP 'Alterations', 2016's 'Besides' and 2014's 'Wasted History'.
The band commented on 'Yuzi':
"Yuzi is about putting the puzzle of yourself back together after the end of a relationship you thought defined you. That's kinda the theme throughout our songs in many ways, and the video ties in a lot of those themes but mainly its about finding a place where you can finally find some peace."
Burnt Tapes met as teenagers in Athens, Greece, serendipitously migrating to London before forming the band in 2014. They have since developed their own unique and enticing brand of 'regret punk', known for their hooks, gruff vocals and heartbreaking lyrics. As a result, they've drawn comparison with Iron Chic, Polar Bear Club, Hot Water Music and The Lawrence Arms.