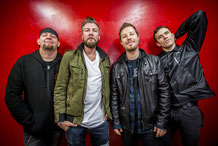 Long-running Mesa, AZ-based melodic punk/rock/reggae act Authority Zero have dropped a music video for their song "Ah Hell" off of their latest album Persona Non Grata, their first studio self-release since their debut EP album Patches in Time over 17 years ago.
Frontman Jason Devore says, ""Ah Hell" is a "well, why the fuck not " in life scenario. Idealistically it stems from when I was a kid. A lot of the older teenagers and younger kids that looked up to them would all go and ride BMX in a small town I lived in. The area we went to had a giant dirt bowl, killer terrain, and one big wicked kicker (jump) at the bottom. One day the teens pressured this little kid by bullying him into flying down the hill to make the jump and fit in. End result, the kid did a double backflip unintentionally and ended up landing on his face shattering all his teeth and bone structure. All that said the idea the final result is to stand up for yourself, don't give in to pressure or bullies, take chances, but also take things at your own pace and do what you feel right for you.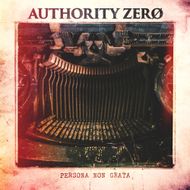 Since '94 Authority Zero has brought their unique blend of anthemic melodic-punk, ska, and reggae tone to the masses. A lot has changed in their 20 plus years since the band's inception but they have always found a way to persist and thrive in todays ever-changing music landscape. "It's been a long and adventurous trek", says Jason Devore (singer/songwriter). The band was formed in Mesa, Arizona by a group of high school friends with ample ambition but no lofty expectations of what the project could become. With the release of their debut album, A Passage in Time (2002, Lava Records), the band's career gained momentum and they quickly found themselves on the road, touring extensively with acts such as Pennywise, Sum 41, Flogging Molly, H20, and many more. Over the past ten years Authority Zero has gained international acclaim, spending time on the European festival circuit as well as stints in Australia, Russia, Japan. They have released a total of six full length studio albums, many holding spots on Billboard's Chart and their music has been featured in numerous video games, tv shows, and movie soundtracks. The band's many successes have been accompanied by a few bumps in the road including a slew of line-up changes, music industry letdowns, as well as having their van, trailer and equipment stolen while on tour in Texas. The secret to their longevity is simple; keep it pure and believe in your music.

Now, 24 years since the band's inception, the future remains as bright as ever for Authority Zero, consisting of singer Jason DeVore, bassist Mike Spero, guitarist Dan Aid and drummer Chris Dalley. In June of 2018, the guys got back to work at legendary Fort Collins studio, The Blasting Room (Rise Against, Descendents, NOFX) to record their seventh full-length album, Persona Non Grata with producer and iconic punk drummer, Bill Stevenson (Black Flag/Descendents/ALL).