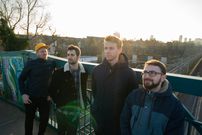 London indie-punks Burnt Tapes have released a new video single for 'Don't Make Me Play Bocelli'. The video gives a personal, behind-the-scenes insight into the band's recording process.
This is the second single from their eagerly-anticipated debut album 'Never Better', due for release on 22 February 2019 on Lockjaw Records (UK/EU) and Wiretap Records (US). 'Never Better' is now available to pre-order on clear 12'' vinyl and CD from Lockjaw Records.
The video for 'Don't Make Me Play Bocelli' shows Burnt Tapes recording at The Ranch Studios, where their album 'Never Better' was crafted, with the help of producer Daly George. Videographer Luigi Sibona has also captured the wistful and melancholy nature of Burnt Tapes are known for creating their own unique brand of melodic punk-rock: 'regret punk'. Inspired by emotive heavy-hitters like Iron Chic, Hot Water Music and The Lawrence Arms, Burnt Tapes create stories through gruff vocals, layered melodies and tattoo-worthy lyrical twists.

Debut album 'Never Better' features 10 tracks of gripping melodic punk, loaded with hooks. The album showcases Burnt Tapes signature gruff dual vocals; exploring the themes of loss, love and self-doubt that Burnt Tapes have made their core. The album is loaded with memorable one-liners, evocative metaphors and lyrical nods to their previous releases.

"It's the first release that more closely represents who we want to be as a band, and I'm really excited to finally share it with everyone," said vocalist/guitarist Phil Georgoulopoulos. "You can expect a lot more self-deprecation and regret."
Burnt Tapes' songwriting in this visually enticing film.