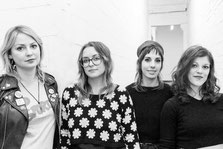 After the release of a first hook-driven single "You're A Doll" back in November 2018, PALE LIPS are back to keep the good times rolling along with their bubblegummy brand of humorous subject matter and signature clever lyrics. Expect some fun with this one!
You're A Doll is the first single off the sophomore album After Dark (to be released January 31, 2019) from Montreal's Pale Lips on Alien Snatch!, Spaghetty Town Records, God's Candy Records and Waterslide Records.
Guest musicians on saxophone ("Jonnhy"), harmonica ("All My Baby Brought Back Was The Blues"), and theremin ("Cosmic Love"), kick it up a notch while the 80's Power Pop sounding vocals add a touch of nostalgia. Pale Lips influences include Nikki Corvette, the Sonics, and 50's rock n roll such as Chuck Berry ("Doo-wap Showaddywaddy", "Hanky Panky Franky").
About Pale Lips:
Delivering a satisfying mix of poppy, rock and roll anthems with just a pinch of punk attitude thrown in, Pale Lips have set themselves apart as a band that always delivers a good time. Combining Chuck Berry-esque riffs with catchy, funny lyrical brilliance, they have managed to invoke the best parts of their obvious musical influences without ever coming off as unoriginal. Known for their energetic live performances, Pale Lips make it their mandate to have a fun time, all the time.
Emerging on the Montreal scene back in 2014, Ilona Szabo (guitar), Jamie Radu (bass), Lynn Poulin (drums) and Jackie Blenkarn (vocals) have stuck it out as a unit and managed to produce a number of indie label releases so far.