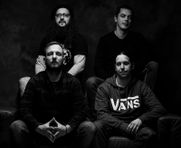 About three years after the release of their acclaimed debut and self-titled album and and months of hard work, French post-hardcore/screamo merchants Aleska just premiered a brand new official music video for the song "Un Eternel Recommencement", extracted from their upcoming effort and available right now on YouTube.
The song will feature on 'Construire Ou Detruire', their second full-length planned for a Spring release on Bandcamp. Pre-orders for LP, Deluxe LP+CD Limited edition and digital on Ulule.
ALESKA is a french Post Hardcore/Screamo band with 4 members from SHALL NOT KILL, DEAD FOR A MINUTE, ESTEBAN. Created in 2011 and after several line-up changes, the band gives quickly shows and many productions of EP and SPLIT.

In 2016, the first LP ALESKA is realeased and offer a new breathe with a blend of a lot of influences (Screamo, Post-Hardcore, Post-Rock and more). This first album will be very well received and will allow the band to establish its identity and to talk about him. Just after that, the band begin to work on his 2nd LP with a goal : an even more accomplished work and a new level for the production.

This second album named 'Construire Ou Détruire' will be released on first quarter 2019 and has been recorded and mixed by Nicolas BUONO (membre of.. Aleska) and mastered by Magnus Lindberg (Cult Of Luna).