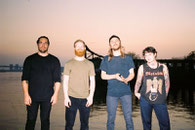 Low Dose is a band that can take a punch. Whether we're talking the dissolution of past projects, or the crumbling of a marriage, the quartet live with a resiliency that translates to their truculent sound. Any speculation of that fact can be laid to rest with one listen to their latest single, "Low," which opens their forthcoming debut LP.
This is a band that rose not just from a pile of ashes, but from a full-on dumpster fire. After pulling the plug on their sludge core outfit Fight Amp, Mike McGinnis, Jon DeHart, and Dan Smith found themselves itching for a new musical outlet. Singer Itarya Rosenberg, on the other hand, was recovering from a litany of physical ailments and a train wrecked marriage. This state of arrested of development, and the dissatisfaction that stems from it, is what propels Low Dose's debut.

The 35-minute LP will hit all the right notes for those who fancy the more melodic side of the noise-rock coin, especially those who lean toward the sonic bedlam of Metz and the silvery chime of Slint. Low Dose was recorded and mixed by Steve Poponi (Fight Amp, Psychic Teens) and mastered by Dave Downham (Creepoid, Beach Slang), making for a sound that's as visceral as it is infectious. In the end, Low Dose is the sound of transcending your circumstances and moving on with your life.