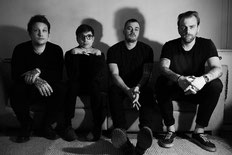 Formed in Stockholm, Sweden, early 2016 and inspired by contemporary South Central United States garage punk, power pop and 60's surf rock, Ditches set out to fill what they felt was a gap in the European garage punk scene.
The result is fast, gritty and melodic garage punk with a touch of melancholy and (when suitable) a touch of surf. Since then they have been playing together they have toured Europe and played with bands like Neighborhood Brats, Radioactivity, Bad sports and Radkey.
Their previous release "1000 Elephants" was mixed and mastered by garage punk greats Mark Ryan and Jeff Burke, and the 7-inch release "The Taste" they have continued to work with Jeff in the mixing and mastering process.