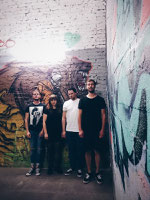 The four-piece from Dortmund fuses driving and melodic emo-punk with atmospheric massive post-hardcore and a ferocious voice that blends in from straightforward singing to harsh screams.
Symmetry Lover formed in 2017, consisting of current and ex-members of Antenna, Meraine and Remember. Their eight catchy songs are a synthesis of different backgrounds, feature a raw yet punchy sound and deal with daily struggles, relationships and self-determination with a dark but still cathartic approach.
"Symmetry Lover" will be released July 5th, digitally as well as on really nice looking vinyl.